Nanotech Solutions
Regular price
$39.95 USD
Sale price
$31.95 USD
Unit price
per
Sale
Sold out
We'd love for you to become part of our family! What better way than by offering you the highest quality nano-based automotive cleaning compounds and protective coatings at a fraction of the cost!
Everything you need to get your leather interiors detailed and protected is included in this amazing kit!
This kit is designed for leather interiors which should be thoroughly cleaned with our Leather Cleaner and then coated with our super-hydrophobic, wax and SiO2-based coating specifically designed for restoring and protecting leather substrates: Leather Shield. Once you're done using this amazing kit, you'll notice a drastic revival on the color of your leather surfaces and won't need to worry about stains ruining them for multiple months. 
TAKE ADVANTAGE OF THIS INNOVATIVE & EASY-TO-USE LEATHER DETAILING KIT THAT INCLUDES:
8 Oz. of Leather Cleaner: Non-greasy, foaming, extremely powerful, yet gentle cleaner for smooth substrates. Great for cleaning smooth leather. 
8 Oz. of Leather Shield: Wax & SiO2-based restorer and protective coating for leather substrates. 
1 high quality microfiber applicator pad.
1 high-quality microfiber towel 12 x 12 in.
FAQs
1. Is rinsing needed after using Leather Cleaner?
No. You can spray Interior Cleaner directly to any non-absorbent surface and simply wipe it with a clean or damp microfiber towel in order to achieve a nice shiny, non-greasy finish.
2. Will Leather Shield leave a visible film on treated surfaces? What kind of liquids does it protect fabrics from?
No, Leather Shield uses the most advanced nanotechnology to restore and bond to leather substrates. After using this coating, you will notice an enhancement on the color of your leather surfaces as well as a super-hydrophobic shield that repels liquids and prevents stains caused by blue jeans transfers and dirt.
3. How long will Leather Shield last?
This coating will offer up to 12 months of leather protection.

4. Is Leather Shield salt water resistant?
Yes.
5. When will I receive my products?
Most orders are shipped within 1-2 business days from Austin, TX via FEDEX Ground. If needed, you can expedite this by selecting a different shipping method.
6. What if I receive a damaged product?
No problem! Notify us as soon as you receive your package and we'll replace it free of charge. 
Share
View full details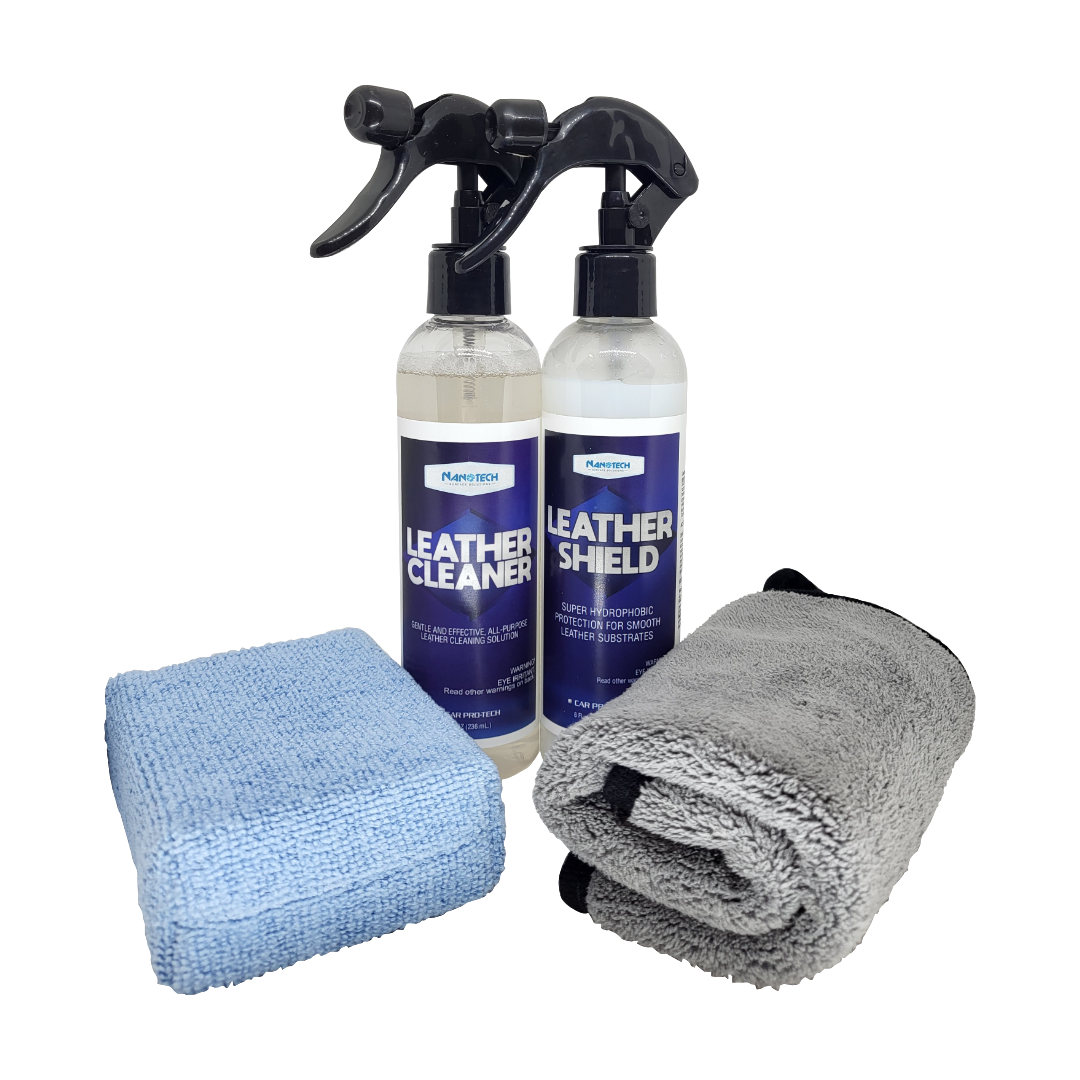 Frequently Asked Questions
How long does it take for products to get shipped once an order is placed?

Most orders are shipped within 1-2 business days from Austin, TX via USPS First Class, USPS Priority Mail or UPS Ground.
Are your products made in the US?

Most of our products are made in the US with European and domestic components. 
Do you ship internationally?

We do offer discounted online international shipping options via UPS & DHL. For bulk orders, please contact us to find the best shipping option. If you have an  active commercial shipping account we can use it.
Can your bottles and sprayers be recycled?

Absolutely! All of our bottles are made out of either HDPE, PET, LDPE plastics. Please recycle according to your state/ local options.