Nanotech Solutions
Regular price
Sale price
$9.95 USD
Unit price
per
Sale
Sold out
Have you ever been about to leave your home in the morning, decide to have one last drink of coffee and spill it all over yourself? Have you ever been drinking a smoothie in your car, drive by a speed bump and spill it all over your car seat?
At Nanotech Surface Solutions we know how annoying these kind of accidents are, so we decided to help! Our nano-based protective coating for fabrics: Fabric Shield bonds on a molecular level to fabric, velvet, suede, and other absorbent upholstery creating an invisible, breathable, and long-lasting hydrophobic coating that prevents liquid-related stains. Fabric Shield is very easy to apply and won't alter the texture or appearance of the treated surface in any way making it the perfect solution for these kind of accidents. Regardless of whether you want to protect shoes, sofas, car seats, chairs, carpets, rugs, curtains, table cloths, suits, dresses, hats, coats, bags or purses, Fabric Shield will help prevent stains caused by spilling accidents. 
Fabric Shield is a nano-based protective coating for fabrics, velvet, suede and unpainted leather that creates a hydrophobic, invisible, breathable, and ultra-thin film that protects these kind of substrates from liquid-related stains such as wine, coffee, orange juice, and soda. A single application lasts up to 12 months and does not alter the appearance or texture of the treated surface in any way, making it an amazing solution for spilling accidents.
Some of its benefits include:
Long-lasting (up to 12 months).
Ready-to-use product.
Non-toxic, water-based.
Easy to apply.
Breathable.
Does not alter the texture or appearance of the treated surface in any way.
Prevents wine, coffee, liquid stains.
Share
View full details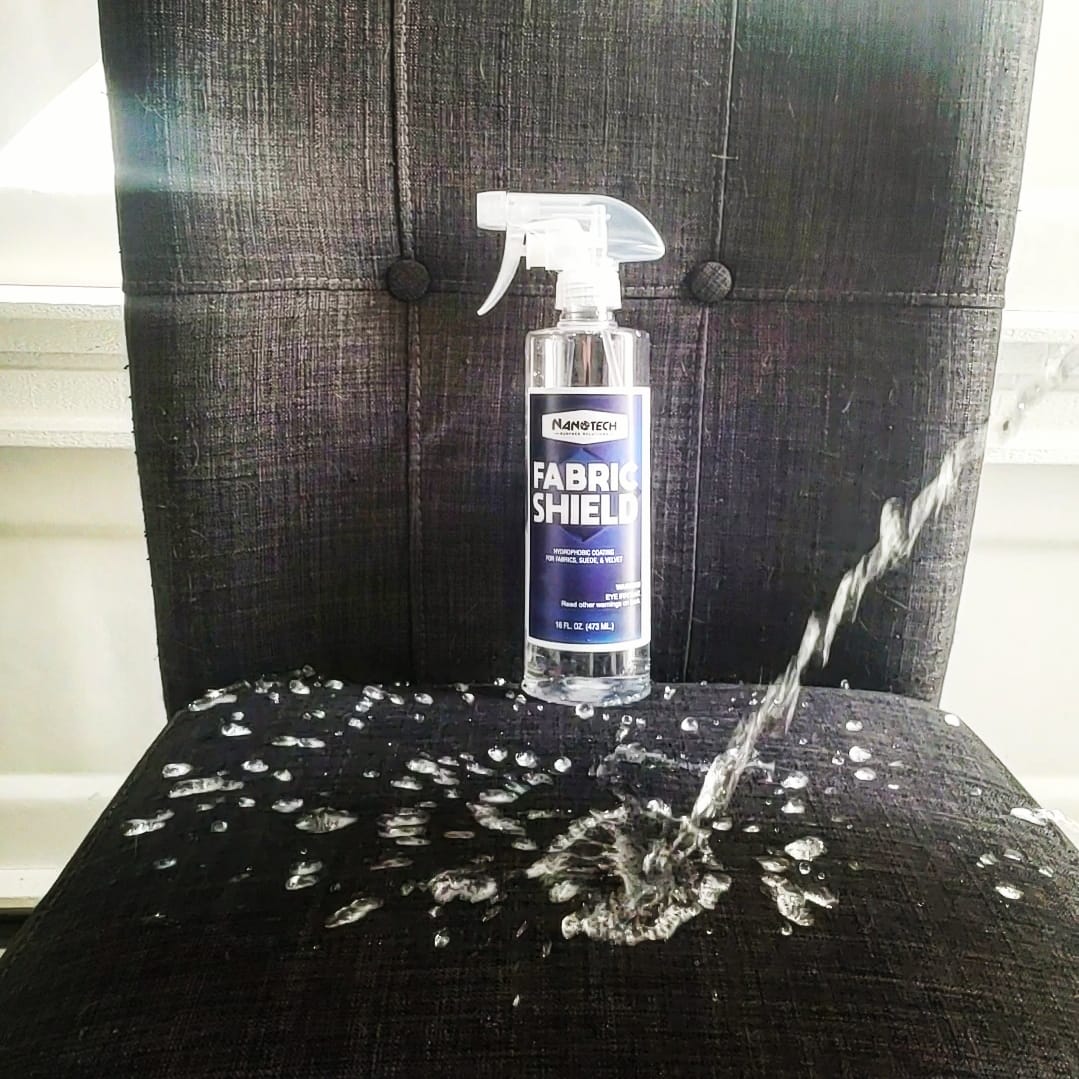 Frequently Asked Questions
How long does it take for products to get shipped once an order is placed?

Most orders are shipped within 1-2 business days from Austin, TX via USPS First Class, USPS Priority Mail or UPS Ground.
Are your products made in the US?

Most of our products are made in the US with European and domestic components. 
Do you ship internationally?

We do offer discounted online international shipping options via UPS & DHL. For bulk orders, please contact us to find the best shipping option. If you have an  active commercial shipping account we can use it.
Can your bottles and sprayers be recycled?

Absolutely! All of our bottles are made out of either HDPE, PET, LDPE plastics. Please recycle according to your state/ local options.