Nanotech Solutions
Regular price
$14.95 USD
Sale price
$7.95 USD
Unit price
per
Sale
Sold out
Glass Cleaner is a powerful cleaning formula that cuts through dirt, dust, grease, grime, and other contaminants without leaving streaks behind. 
Glass Cleaner is 100% ammonia-free and cleans & lubricates without smearing the glass surface. Glass Cleaner provides optical-grade clarity and is suitable for all glass surfaces including tinted windows, tablets, and phone screens. 
Enjoy the clarity!
While ammonia-based glass cleaners eat through tint films, Glass Cleaner can be used on all types of glass surfaces without having to worry about this negative outcome. 
Some of this kit's benefits include: 
Ready-to-use product.

Simply spray and wipe.
Does not contain ammonia or other harmful chemicals.
For personal or commercial use.
Can be used on tinted glass, tablets, phone screens, etc.
Creates a clean, streak-free finish.
FAQs
1. Can I clean my windshield with Glass Cleaner before applying Rain Shield? 
Absolutely! Using Glass Cleaner as a first step will ensure dirt and all other contaminants that are on your windshield are cleaned prior to the application of our long-lasting windshield rain repellent coating: Rain Shield.
2. Do I need to dilute Glass Cleaner? 
No, this is a ready-to-use product, simply spray on any glass surface and wipe with a clean microfiber cloth. 
3. Will Glass Cleaner leave any streaks behind?
Not at all! As long as you use a clean microfiber cloth, your glass surface will look pristine! 
4. When will I receive my products?
Most orders are shipped within 1-2 business days from Austin, TX via USPS Priority Mail. If needed, you can expedite this by selecting a different shipping method.
5. What if I receive a damaged product?
No problem! Notify us as soon as you receive your package and we'll replace it free of charge.
Share
View full details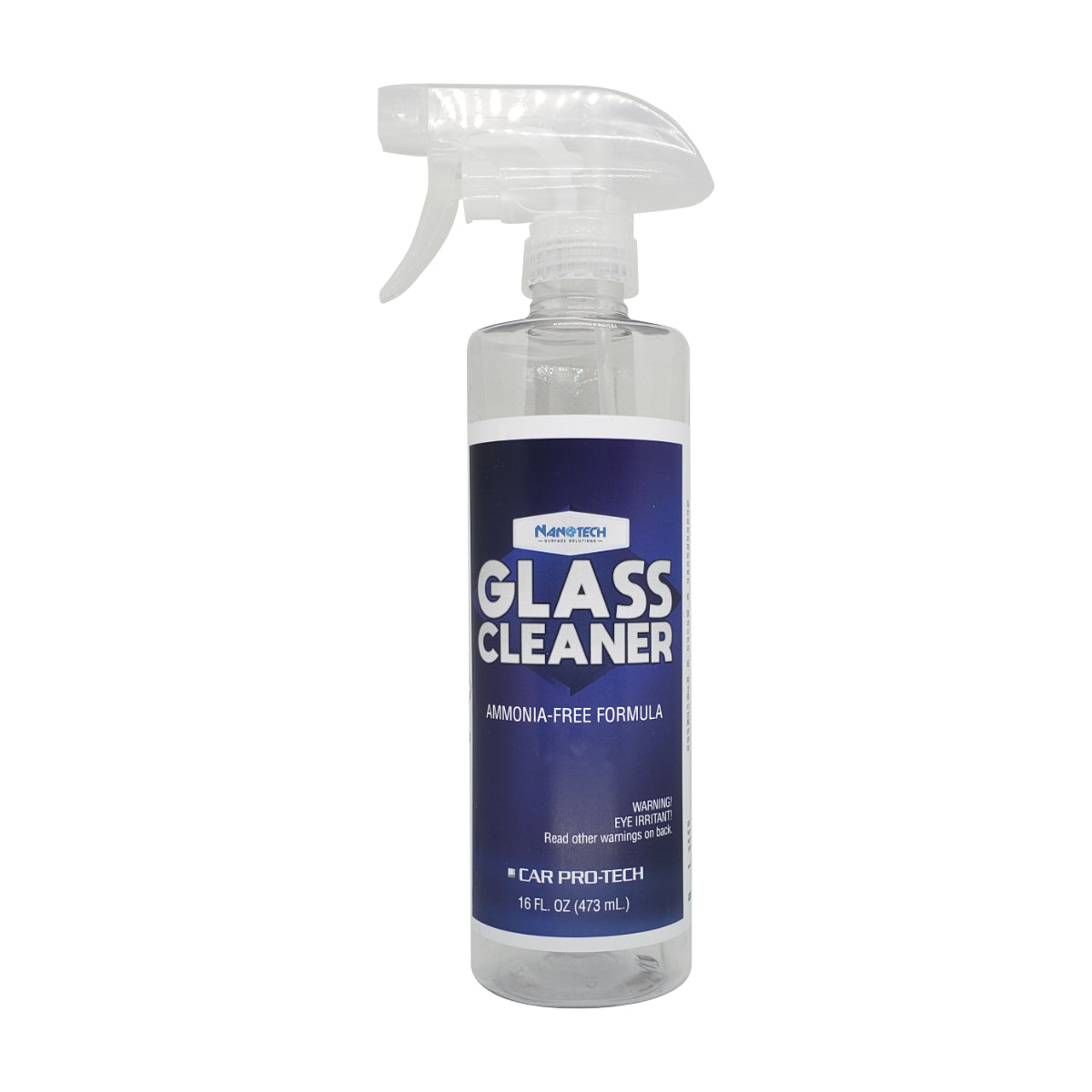 Frequently Asked Questions
How long does it take for products to get shipped once an order is placed?

Most orders are shipped within 1-2 business days from Austin, TX via USPS First Class, USPS Priority Mail or UPS Ground.
Are your products made in the US?

Most of our products are made in the US with European and domestic components. 
Do you ship internationally?

We do offer discounted online international shipping options via UPS & DHL. For bulk orders, please contact us to find the best shipping option. If you have an  active commercial shipping account we can use it.
Can your bottles and sprayers be recycled?

Absolutely! All of our bottles are made out of either HDPE, PET, LDPE plastics. Please recycle according to your state/ local options.