Nanotech Solutions
Regular price
Sale price
$9.95 USD
Unit price
per
Sale
Sold out
Most of us don't think twice about using our phones everywhere, from the morning commute, to the dinner table and of course, the bathroom. We also, unfortunately, don't think twice about the amount of germs our hand deposits on its screen.
A recent study found more than 17,000 bacterial gene copies on the phones of high school students, and scientists have also found that cell phones carry 10 times more bacteria than most toilet seats.
Even though most of these organisms are not pathogens that will make you sick, you should be aware that some might. Viruses can also spread on phones if the person is sick with strep throat, influenza or nowadays, the corona-virus, and coughs on their phone before handing it off to a friend.
So what are the best cleaning methods? Many people just wipe their phones with a soft microfiber cloth, which removes many germs, however, for a deeper clean, using rubbing alcohol and wiping it with a soft cloth across your phone will achieve this.
At Nanotech Surface Solutions, we are aware and very concerned about the negative impact this COVID-19 pandemic is causing, which is why we've introduced Screen Shield. Screen Shield is a two component kit that includes a wipe with rubbing alcohol which will deep clean and disinfect your entire phone and a wipe with an antibacterial SiO2 solution that will create an ultra thin protective layer on your phone. This glass-like protective layer is able to seal the micro pores and crevasses on your phone drastically reducing the capability of bacteria to adhere and proliferate on it.
Don't let your phone be dirtier than a toilet seat!
Screen Shield is an extremely easy-to-apply, two component kit that includes a wipe with rubbing alcohol to clean and disinfect your entire phone and a wipe with our SiO2-nano-based solution that will create an ultra thin protective layer on your phone. Screen Shield disinfects and drastically reduces bacteria growth helping keep these surfaces sanitized for longer time intervals. This listing includes two kits, each including a disinfectant wipe and a SiO2 protective coating one, which are enough to cover 4 smartphones or two 17' tablet screens.
If treating two phones, they must be cleaned and coated at the same time.
Some of its benefits include:
Alcohol disinfectant & SiO2 coating included.
Easy application, no bubbles or wrong positioning.
Ready-to-use product.
Installation done in minutes.
Can be applied directly to any phone: Samsung, Apple, LG, etc.
Acts as a UV filter.
Drastically reduces bacteria growth.
Creates hydrophobic and oil resistant properties.
Reduces radiation.
FAQs
1. How does Screen Shield work?
Screen Shield creates an ultra thin glass-like protective layer (invisible to the human eye) on phones and tablets. This protective layer is able to seal the micro-pores and crevasses these surfaces have increasing their smoothness and hardness. Screen Shield also creates a hydrophobic and oil resistant protection which as a direct result, reduces the growth of bacteria.
2. How do I apply it?
Each kit contains a cleaning/ disinfectant wipe (alcohol) and a protective coating wipe (SiO2). Please note each kit can be used to clean and protect up to two standard-sized smart phones or a 17' tablet screen. If coating two phones, you must do this at the same time before the wipe contents dry.
Steps
Use nitrile or latex gloves if you have sensitive skin.
Remove any protective case from your phone or tablet, then use the cleaning/ disinfectant wipe to clean the whole phone. You should use a circular motion to clean both the screen and the back side of the phone.
Let dry. You can use a clean microfiber cloth to expedite this process.
Apply the SiO2 coating using a circular motion on both the screen and back side of your phone. You will notice a light veil as you apply it, this is perfectly fine.
Let your phone air dry for at least 5 minutes after applying the coating.
After waiting at least 5 minutes, polish this light veil using a clean microfiber cloth (you may use the one used previously).
Your phone is now ready to use and will fully cure after 24 hours.
For best results, follow steps 1-5  right before going to bed in order to allow the coating to cure for a longer period of time.
3. How many phones can each kit protect?
Each kit can cover 2 standard-sized smartphones or one 17' tablet screen. This listing includes two kits which can coat 4 standard-sized smartphones or two 17' tablet screens. Please note both phones must be cleaned and coated at the same time before the wipes dry.
4. How long will the protection last? What should I clean the treated surfaces with?
The protection will last anywhere from 60 to 90 days. We recommend reapplying it every 60 days to guarantee its best performance. Once the surface has been coated, you should clean it with a damp, clean cloth (microfiber preferably) at least once a week. You can also create a 70% alcohol-water mixture in order to disinfect and deep clean it as frequently as necessary.
5. When will I receive my products?
All orders placed before 3:30 pm CST will be shipped the same day from Austin, TX. Faster shipping options are also available.
6. What if I receive a damaged product?
No problem! Notify us as soon as you receive your package and we'll replace it free of charge.
Share
View full details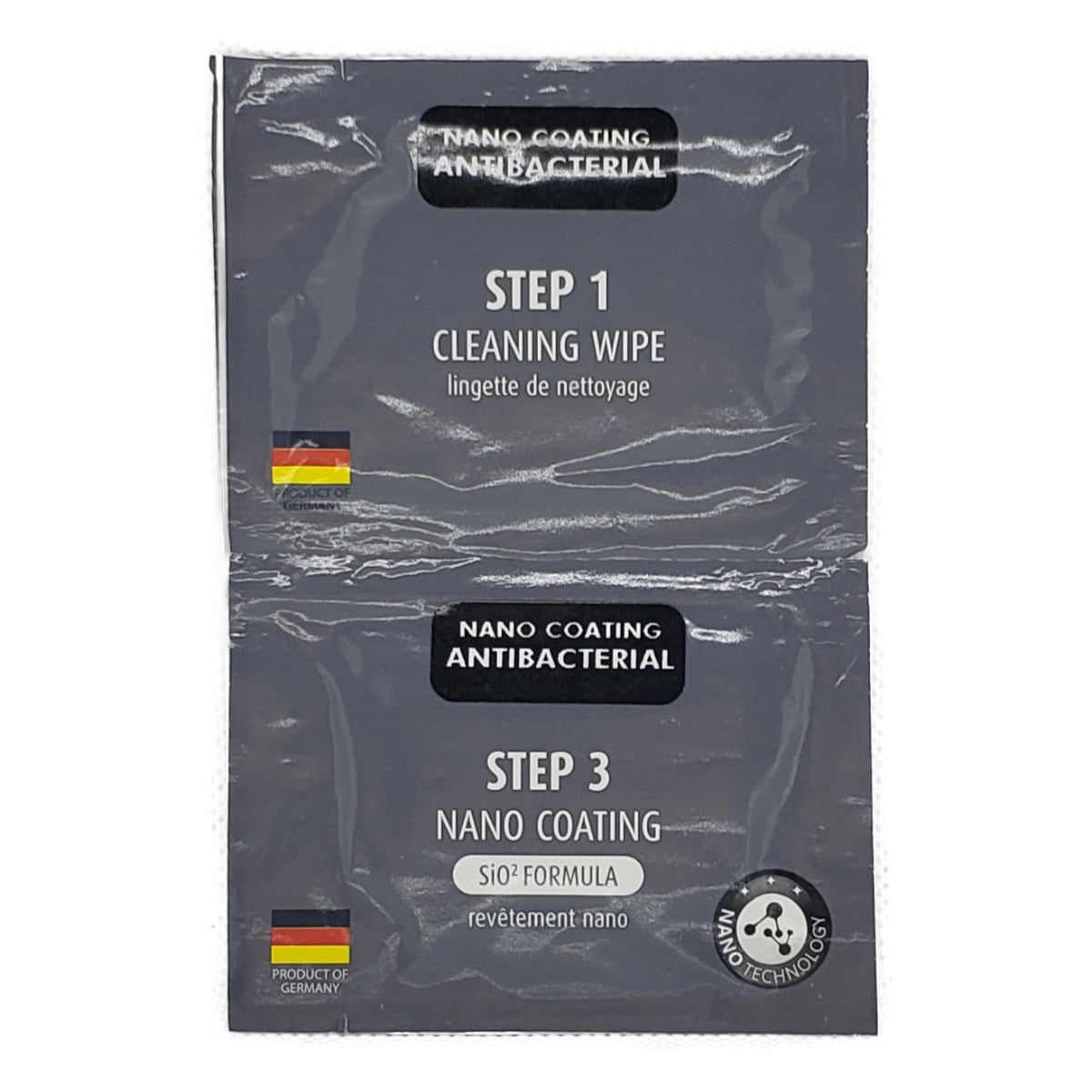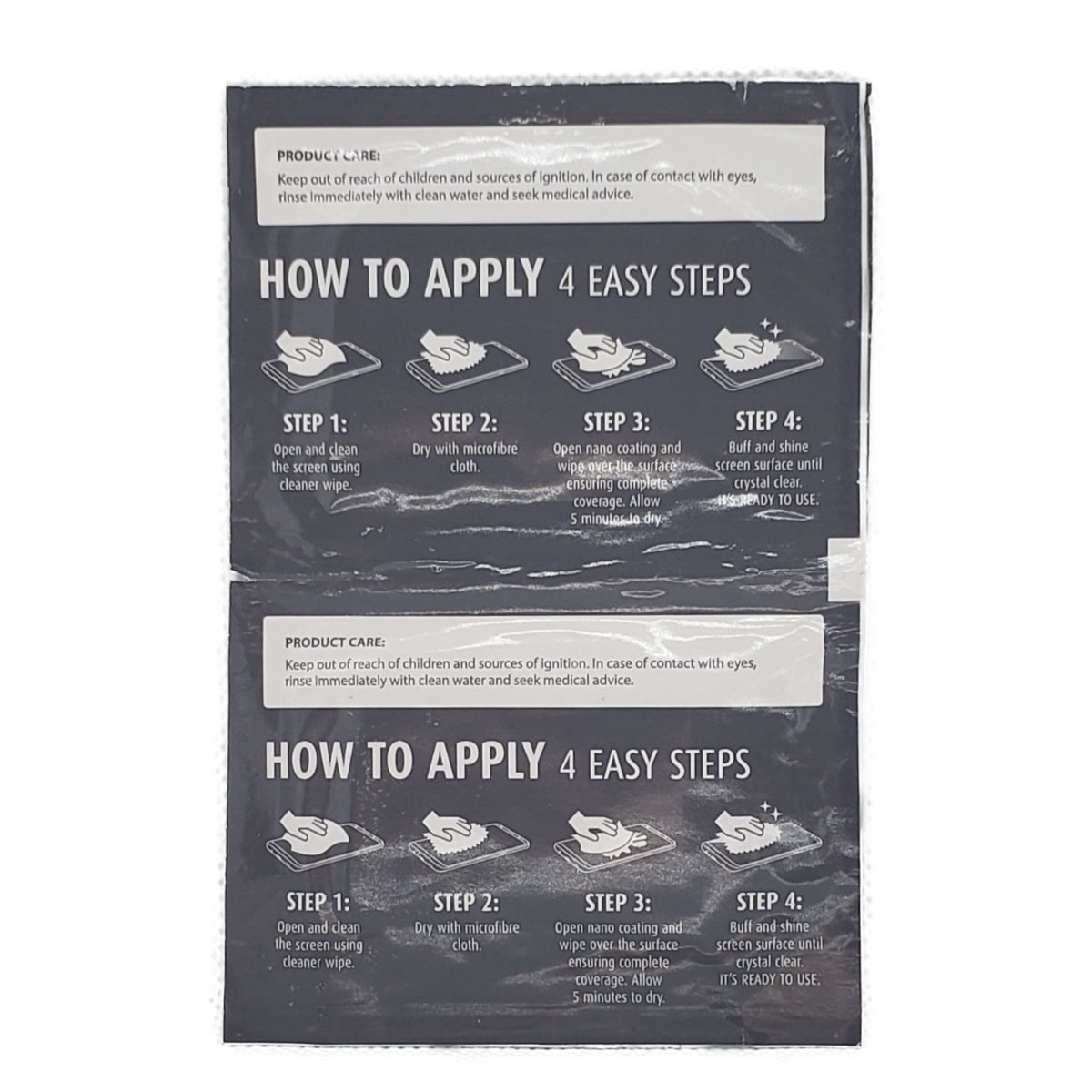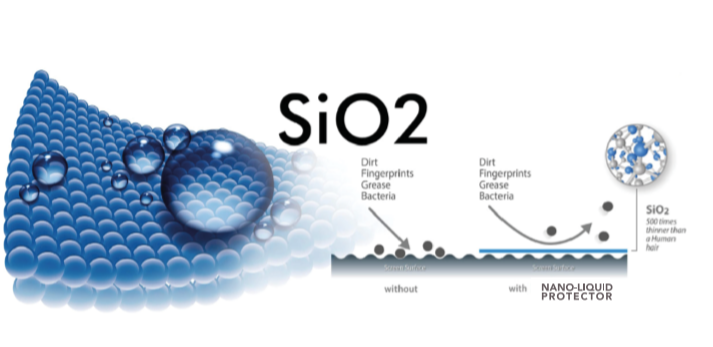 Frequently Asked Questions
How long does it take for products to get shipped once an order is placed?

Most orders are shipped within 1-2 business days from Austin, TX via USPS First Class, USPS Priority Mail or UPS Ground.
Are your products made in the US?

Most of our products are made in the US with European and domestic components. 
Do you ship internationally?

We do offer discounted online international shipping options via UPS & DHL. For bulk orders, please contact us to find the best shipping option. If you have an  active commercial shipping account we can use it.
Can your bottles and sprayers be recycled?

Absolutely! All of our bottles are made out of either HDPE, PET, LDPE plastics. Please recycle according to your state/ local options.