Nanotech Solutions
Regular price
$19.95 USD
Sale price
$15.95 USD
Unit price
per
Sale
Sold out
If you're looking for an extremely easy-to-use product that will create a mirror-like, super slick surface, then Silica Ceramic Spray is your best bet. The ease and extremely little amount of time spent applying this protective coating is unmatched, making it possible to make heads turn whenever you or your clients are driving their car, for a very reasonable price. 
Silica Ceramic Spray is an easy and ready-to-use advanced SiO2-infused coating that creates a super hydrophobic and UV ray protection on all non-absorbent substrates. When used on automotive paint, Silica Ceramic Spray enhances its gloss, repels dirt, and protects treated surfaces from acid rain, salt water, and other environmental aggressors.
When used on appliances and other surfaces around the house, Silica Ceramic Spray will increase their gloss, drastically reduce smudges on stainless steel surfaces, protect natural stone countertops from coffee, juice, and grease stains, and reduce the amount of hard water spots on glass shower enclosures and windows. 
An incredibly fast and easy to install ceramic spray! 
Silica Ceramic Spray bonds and seals even the smallest crevasses in non-absorbent substrates, increasing their contact angle and creating a slick surface, which doesn't allow water or dirt particles to build-up.
Some of it's benefits include: 
Ready-to-use product.
Cures in 12 hours.
Non-toxic, water-based.
Easy to apply.
For personal or commercial use.
Simply spray, and wipe off.
Adds gloss to vehicle paint and creates a slick, super-hydrophobic surface.

Protects from UV rays.
FAQs
1. How many cars can I coat with an 8 oz. bottle?
You should be able to coat 4 standard sedans or small SUVs with each 8 oz. bottle. 
2. How long does it take for the coating to fully cure? 
Silica Ceramic Spray will be touch dry in minutes and will fully cure after 12 hours. 
3. Can I use this product on glass, metals, plastics?
Absolutely! This product is extremely versatile and can be used on all non-absorbent substrates. 
4. How long does Silica Ceramic Spray last?
A single application of Silica Ceramic Spray will last around 3 months. Looking for a longer lasting ceramic coating option? Try our Bodywork Armor which lasts up to 12 months, Liquiglass which lasts up to 2 years or Si-Carbide Plus which lasts up to 5 years. 
5. When will I receive my products?
Most orders are shipped within 1-2 business days from Austin, TX via USPS Priority Mail. If needed, you can expedite this by selecting a different shipping method.
6. What if I receive a damaged product?
No problem! Notify us as soon as you receive your package and we'll replace it free of charge.
Share
View full details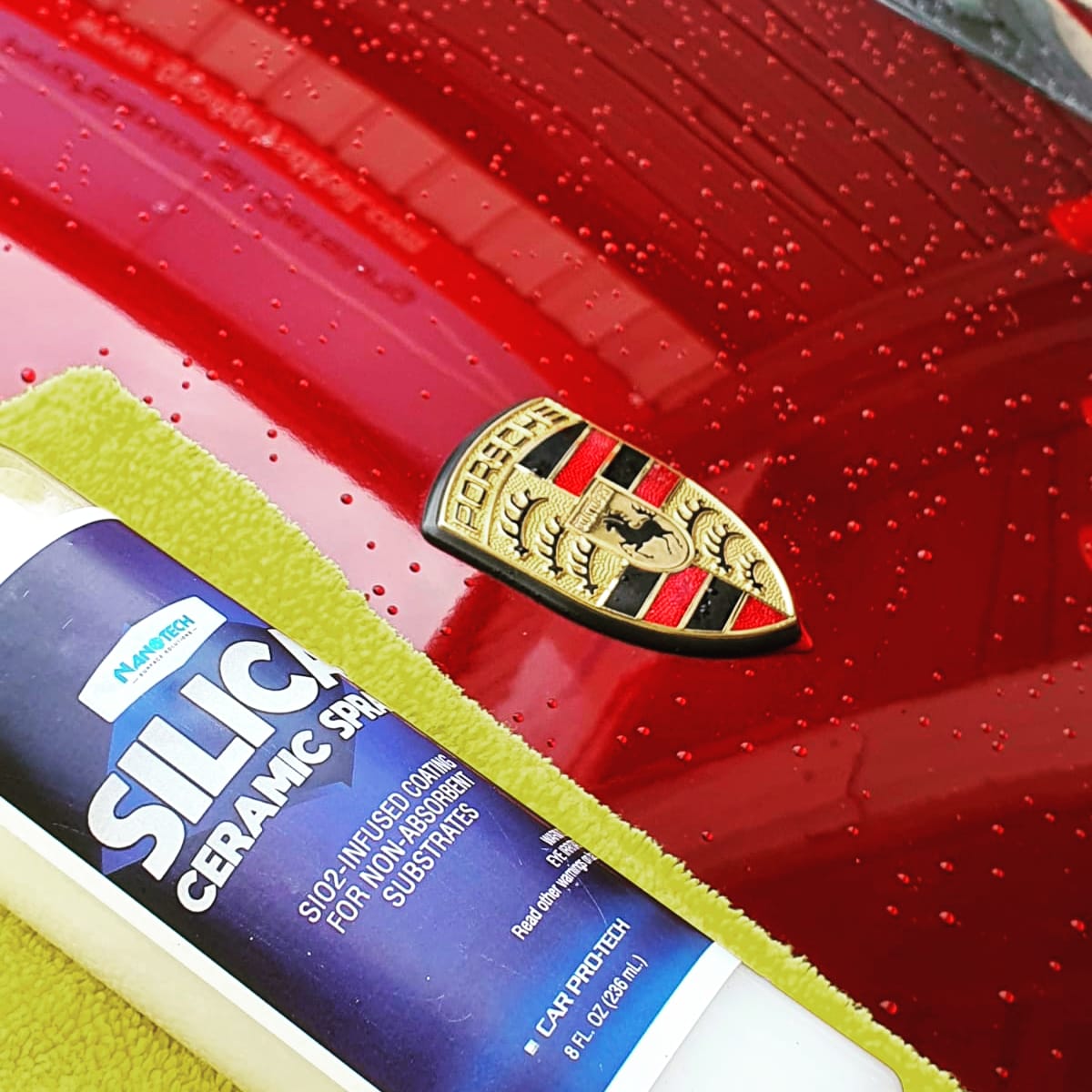 Frequently Asked Questions
How long does it take for products to get shipped once an order is placed?

Most orders are shipped within 1-2 business days from Austin, TX via USPS First Class, USPS Priority Mail or UPS Ground.
Are your products made in the US?

Most of our products are made in the US with European and domestic components. 
Do you ship internationally?

We do offer discounted online international shipping options via UPS & DHL. For bulk orders, please contact us to find the best shipping option. If you have an  active commercial shipping account we can use it.
Can your bottles and sprayers be recycled?

Absolutely! All of our bottles are made out of either HDPE, PET, LDPE plastics. Please recycle according to your state/ local options.