Nanotech Solutions
Regular price
$18.95 USD
Sale price
$14.95 USD
Unit price
per
Sale
Sold out
Have you noticed how unsightly iron particles, better known as break dust can be? Specially on shiny surfaces like wheels?

At Nanotech Surface Solutions we are completely aware that brake dust generation is not something that can be prevented, unless you stop using your breaks, and that would create a much bigger problem. However, something that can definitely be addressed is removing break dust build up on wheels, and for that reason, we've implemented Wheel Magic into our product line. Wheel Magic is a non-acidic wheel cleaner and iron remover that works just as effectively as other acidic products out in the market. Wheel Magic targets iron particles and dissolves them, creating cleaner and break dust-free surfaces. All, while you relax and watch your wheels turn purple! 
Decontaminate those unsightly and harmful break dust particles!
Wheel Magic is a highly effective and extremely fast-acting wheel cleaner and iron build up remover. Our product is way less aggressive than traditional acid & corrosive wheel cleaners but just as effective. Once sprayed on the wheel surface, its powerful formulation will dissolve all kinds of iron build up, including harmful break dust, creating a cleaner and contaminant-free surface.
Some of its benefits include:
Ready-to-use product.
Easy application (apply, let sit, & rinse).
Removes iron build up & brake dust.
Creates noticeably cleaner surfaces.
Contains no acid components.
Surface develops purple marks when iron dissolving process begins.
Great for detailing vehicles.
FAQs
1. Is rinsing needed before using Wheel Magic?
No. You can spray Wheel Magic directly on wheels and then clean them after the break dust particles have been dissolved.
2. How do I know Wheel Magic has dissolved break dust particles?
After spraying Wheel Magic on the wheels, let it sit and you'll start noticing how the surface starts developing a pink color. This is the product in action dissolving all the break dust particles that have been accumulating on the wheel surfaces.
3. Is Wheel Magic acid-based?
Not at all! Wheel Magic, unlike many other iron removers out there, contains no acid components This makes it a safer alternative to get those wheels looking sparkling clean!
4. When will I receive my products?
Most orders are shipped within 1-2 business days from Austin, TX via USPS Priority Mail. If needed, you can expedite this by selecting a different shipping method.
5. What if I receive a damaged product?
No problem! Notify us as soon as you receive your package and we'll replace it free of charge.
Share
View full details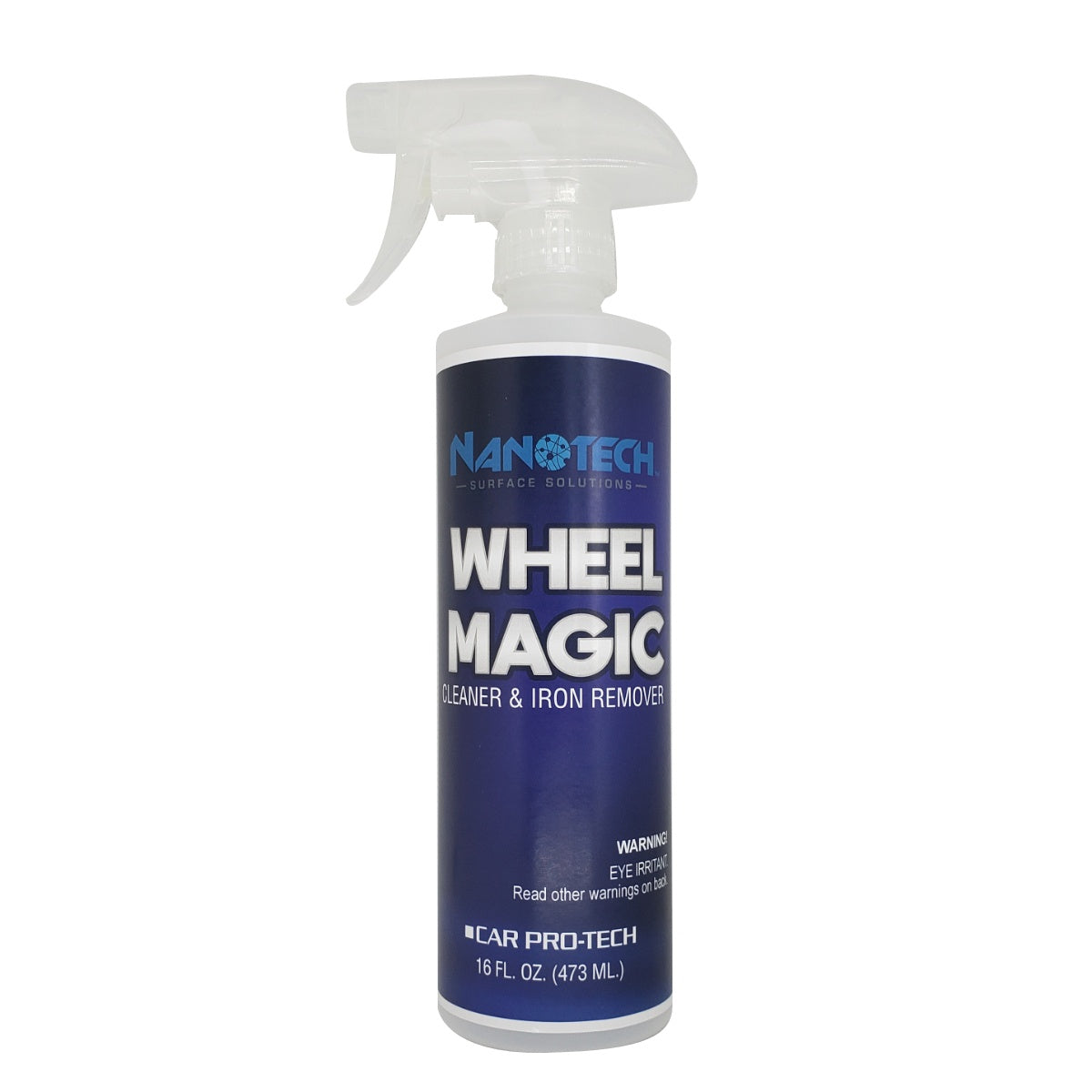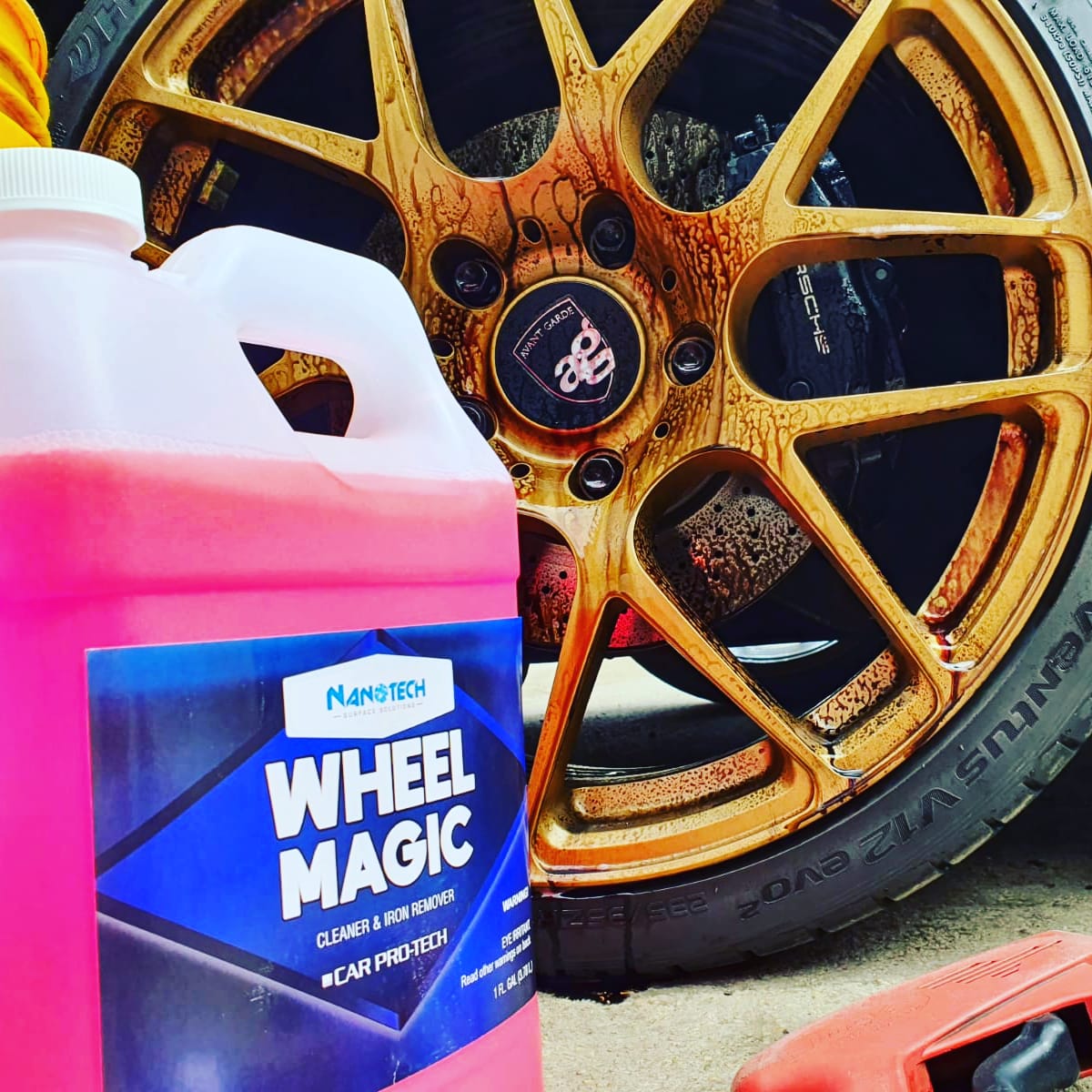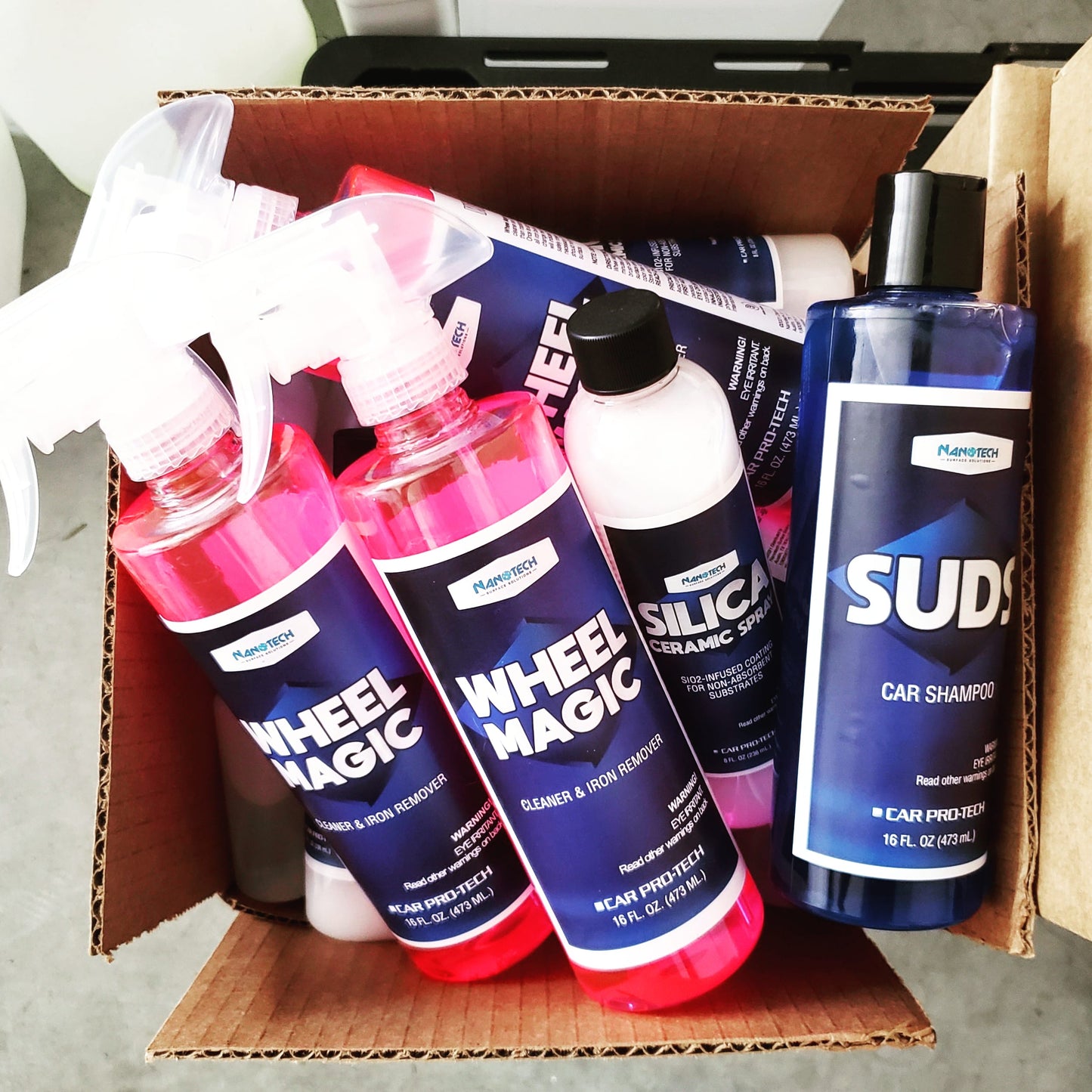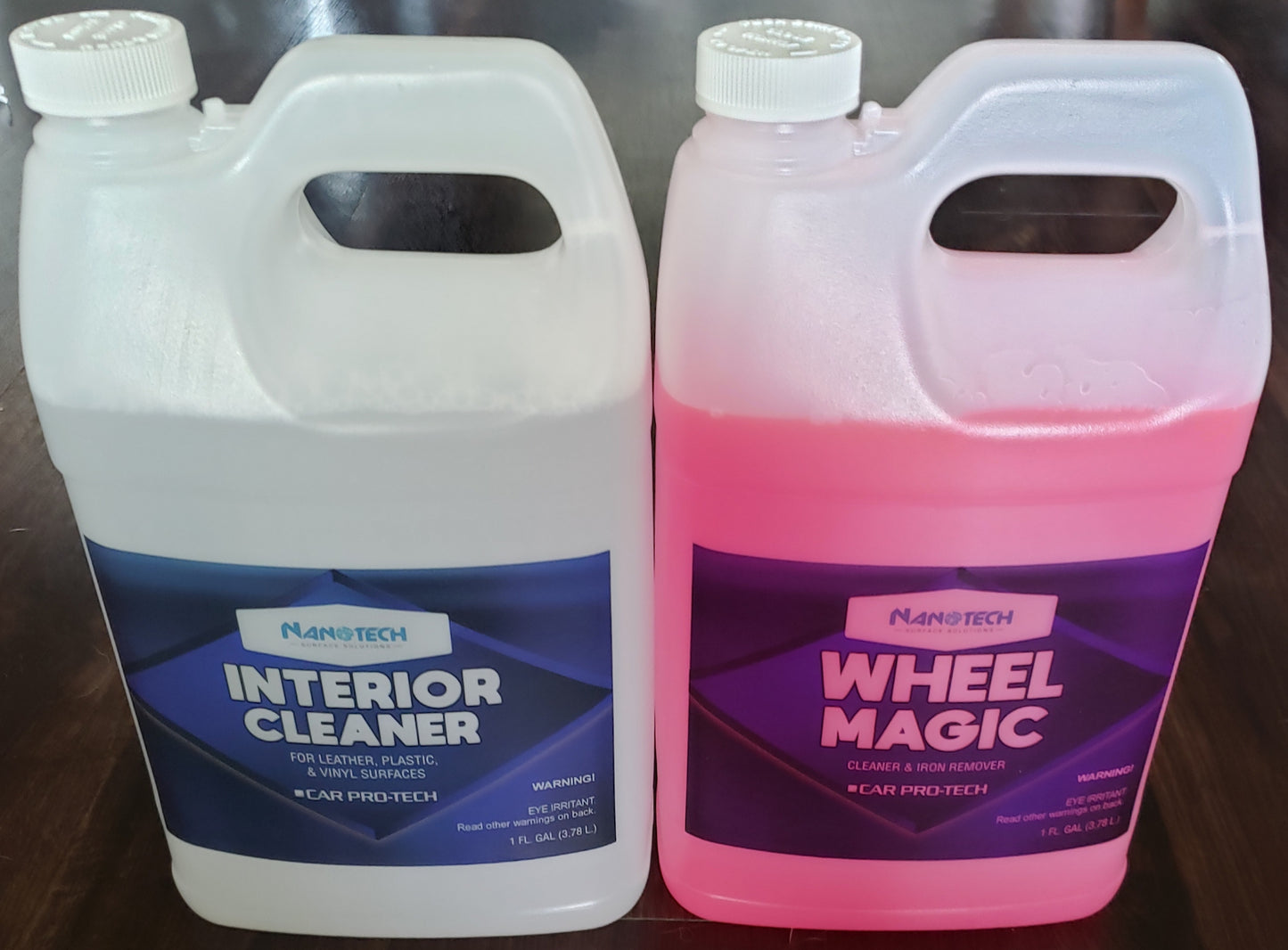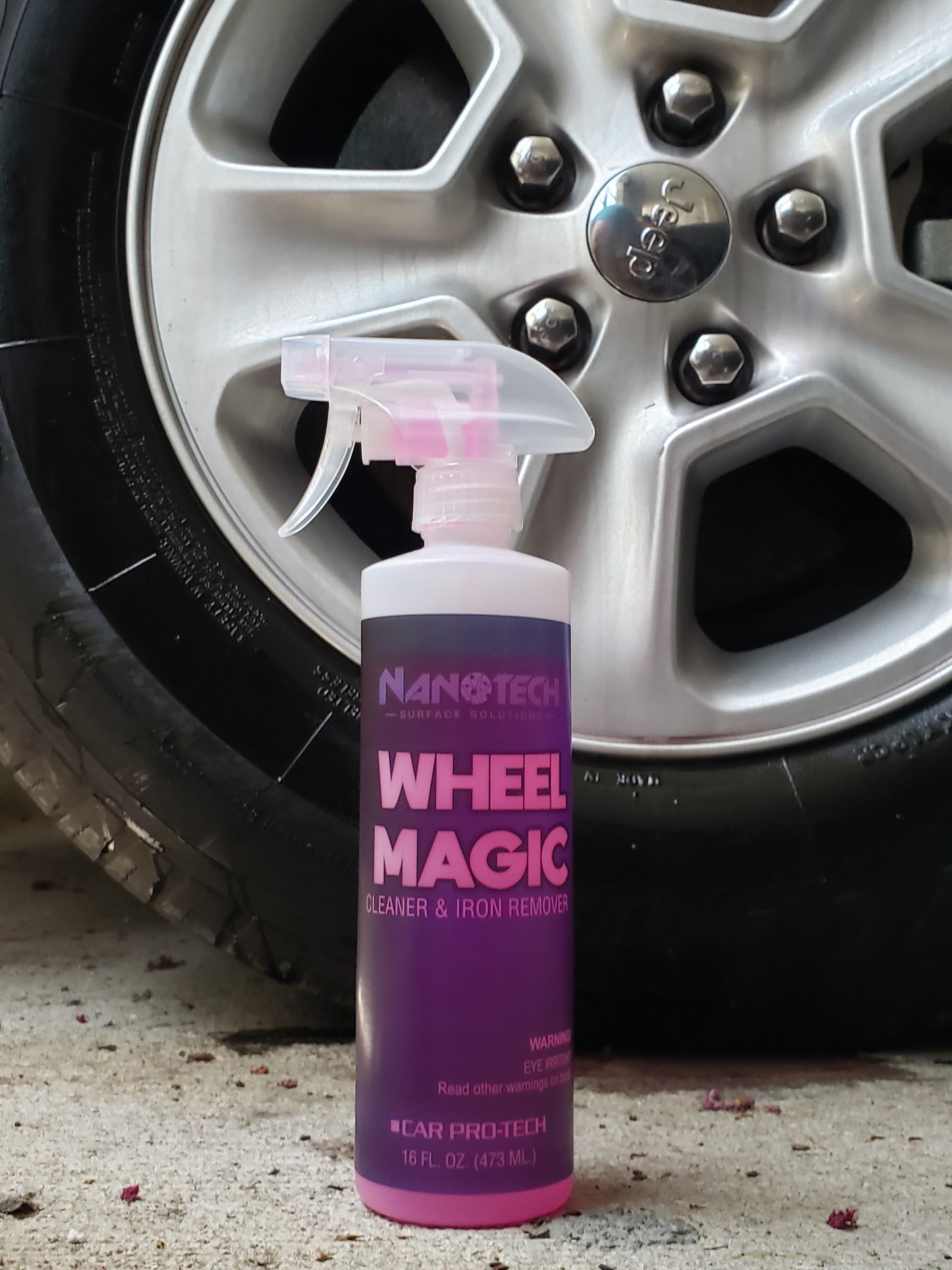 Frequently Asked Questions
How long does it take for products to get shipped once an order is placed?

Most orders are shipped within 1-2 business days from Austin, TX via USPS First Class, USPS Priority Mail or UPS Ground.
Are your products made in the US?

Most of our products are made in the US with European and domestic components. 
Do you ship internationally?

We do offer discounted online international shipping options via UPS & DHL. For bulk orders, please contact us to find the best shipping option. If you have an  active commercial shipping account we can use it.
Can your bottles and sprayers be recycled?

Absolutely! All of our bottles are made out of either HDPE, PET, LDPE plastics. Please recycle according to your state/ local options.