Nanotech Solutions
Regular price
$29.95 USD
Sale price
$19.95 USD
Unit price
per
Sale
Sold out
At Nanotech Surface Solutions, we know how difficult it can be to keep your vehicle sharp. 
With SiO2 Car Kit, you won't need to worry about cleaning your car in freezing temperatures as you'll be able to use our Waterless Wash in order to achieve that nice glossy finish you love while helping the environment by saving a ton of gallons of water. You'll also be able to enjoy the super hydrophobic properties on your car paint created by our our long-lasting paint sealant: Bodywork Armor which will considerably reduce the adhesion of mud and snow. Last but not least, our windshield rain repellent: Rain Shield will help increase visibility by making it easier to remove sleet and repelling rain drops from your windshield and windows making it safer for you to drive in this weather.

TAKE ADVANTAGE OF THIS TOP-OF-THE-LINE CARE CARE KIT THAT INCLUDES:
1 Pint (16 Oz.) of Waterless Wash (Dry Cleaner): Water-less high quality car cleaner for paint, glass, metal, plastics.
1 x 2 Oz. Fine Mist Sprayer of Bodywork Armor: Long-lasting invisible paint sealant that creates an ultra thin shield that protects car paint from UV ray damage, bird droppings, and other environmental aggressors and prevents mud and even snow from adhering to the surface by providing super-hydrophobic properties.
1 x 1 Oz. Fine Mist Sprayers of Rain Shield: Long-lasting windshield rain repellent, coat your entire exterior windows with 1 Oz.
1 x high quality microfiber cloth.
Did we mention this package also includes FREE SHIPPING anywhere in the US?
FAQs
1. Can Waterless Wash (Dry Cleaner) be used on a very dirty (muddy) vehicle? How many washes will it last?
You should not use Waterless Wash on a vehicle that has chunks of mud on it as it will scratch and damage the car paint. If this is the case, you should rinse the mud off and then use Waterless Wash in order to create a clean, glossy, and water repellent finish. You should also not use Waterless Wash on cars that have been left out in the sun as it will affect its performance. Waterless Wash can be used on glass, metal, plastic and painted surfaces. Each pint of Waterless Wash can last up to 5 washes on a standard sedan/ small SUV.
2. Is Waterless Wash (Dry Cleaner) toxic?
Not at all! Waterless Wash is a water-based mix of biodegradable components.
3. How many cars can a 2 ounce sprayer of Bodywork Armor cover? How long does the coating last?
Each 2 ounce sprayer of Bodywork Armor is enough to coat a standard sedan/ small SUV for up to 12 months. For best results we recommend using our Waterless Wash in order to clean the car paint after it's been coated and reapplying the coating every 8-10 months.
4. How long does Rain Shield last?
A single application of Rain Shield will offer rain repellent protection for up to 6 months. Each one ounce presentation is enough to coat a sedans/ small SUV/ Pick Up Truck's windshield, side, and rear windows. Rain Shield will also make it easier to remove sleet and snow (during winter) as well as bug splatters.
5. When will I receive my products?
Most orders are shipped the same day from Austin, TX via USPS Priority Mail. Orders placed after 3:00 pm will get shipped the following business day. If you need your products sooner, you can always expedite this process by selecting a different shipping method (an additional shipping cost will be added to your invoice).
6. What if I receive a damaged product?
No problem! Notify us as soon as you receive your package and we'll replace it free of charge.
Share
View full details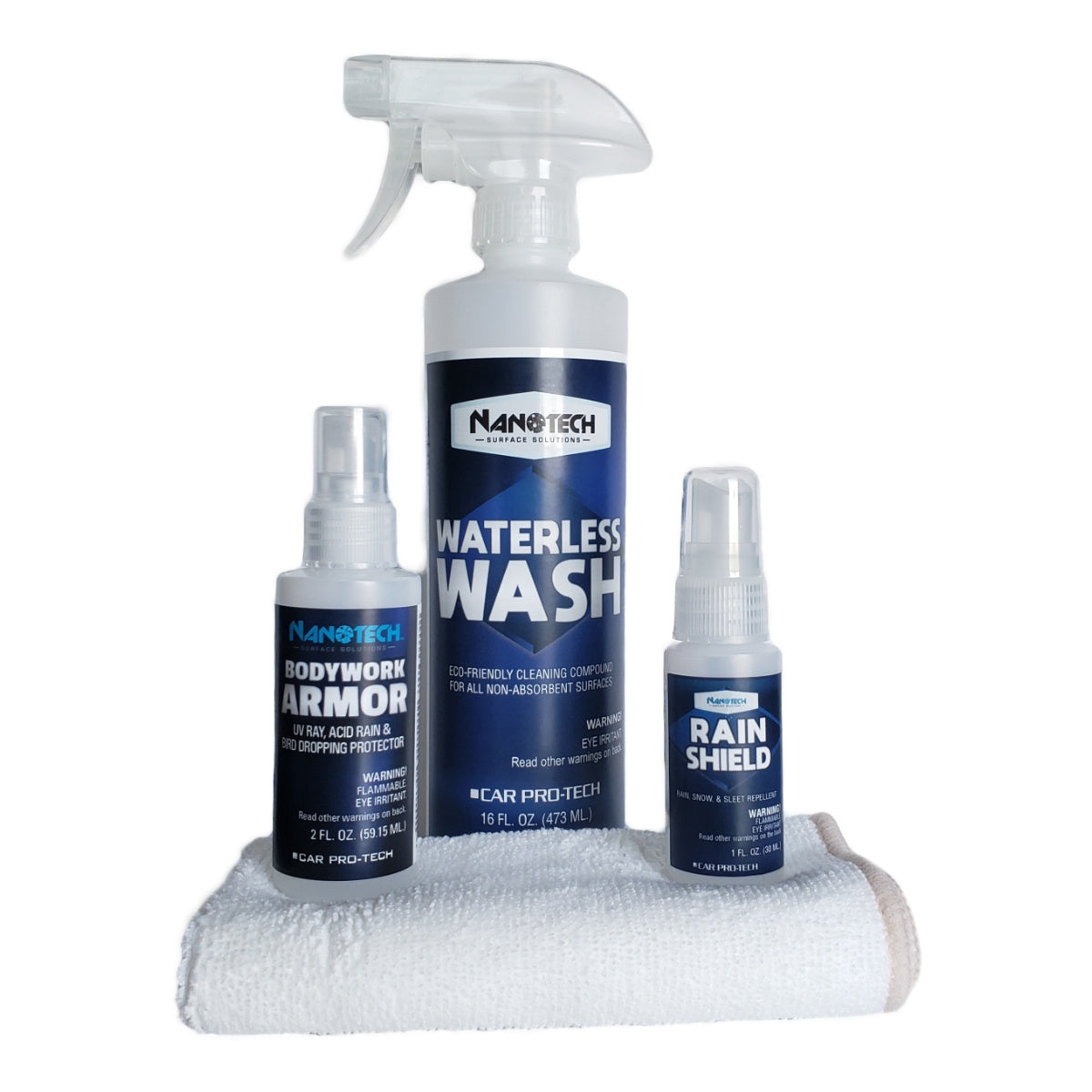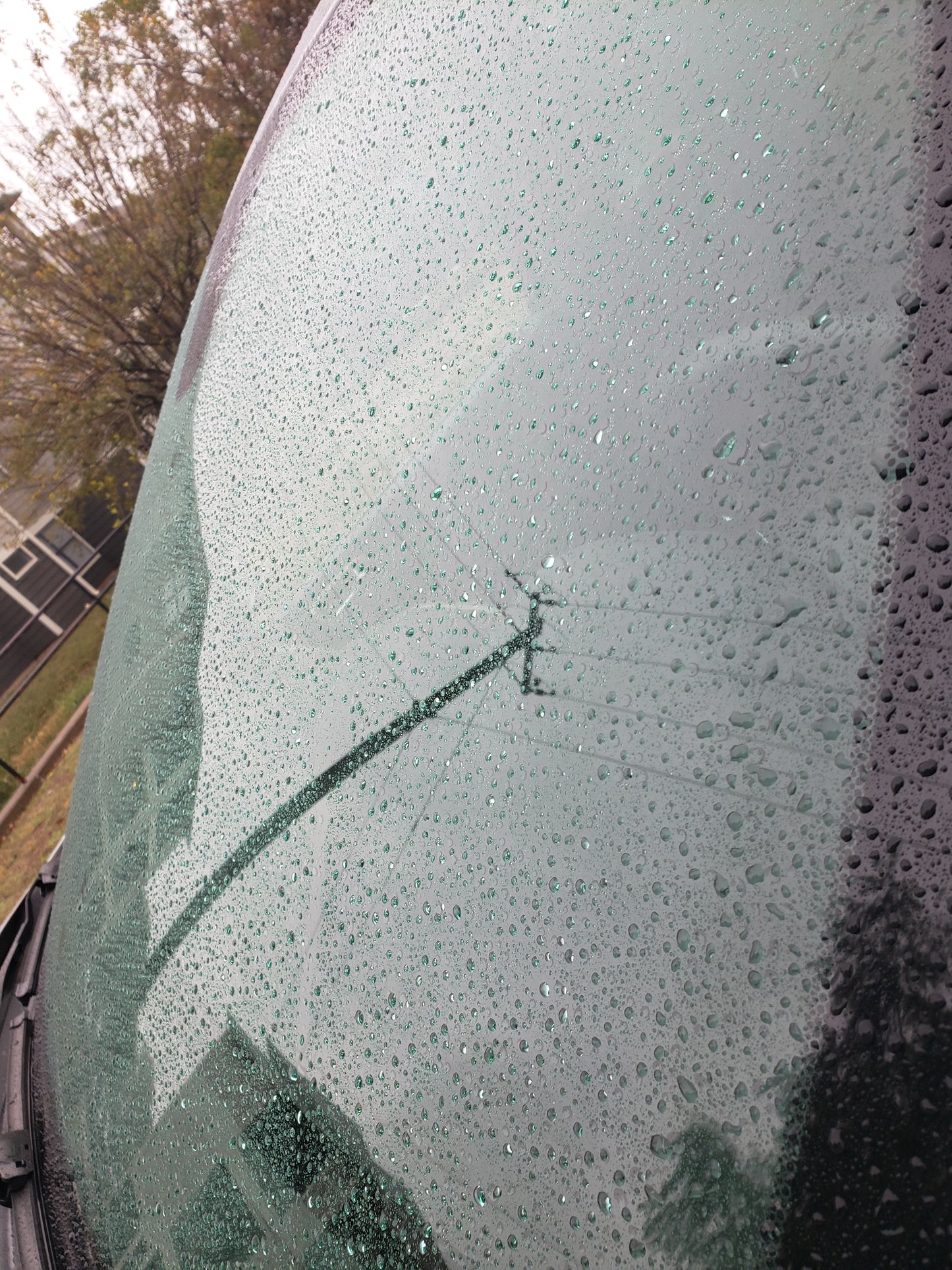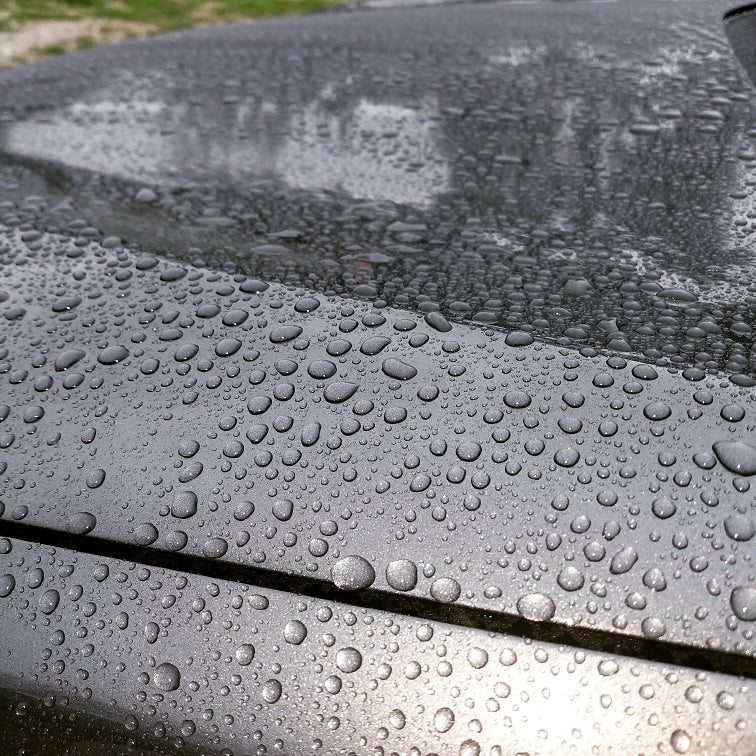 Frequently Asked Questions
How long does it take for products to get shipped once an order is placed?

Most orders are shipped within 1-2 business days from Austin, TX via USPS First Class, USPS Priority Mail or UPS Ground.
Are your products made in the US?

Most of our products are made in the US with European and domestic components. 
Do you ship internationally?

We do offer discounted online international shipping options via UPS & DHL. For bulk orders, please contact us to find the best shipping option. If you have an  active commercial shipping account we can use it.
Can your bottles and sprayers be recycled?

Absolutely! All of our bottles are made out of either HDPE, PET, LDPE plastics. Please recycle according to your state/ local options.